Keokuk County Lord's Pantry Christmas Event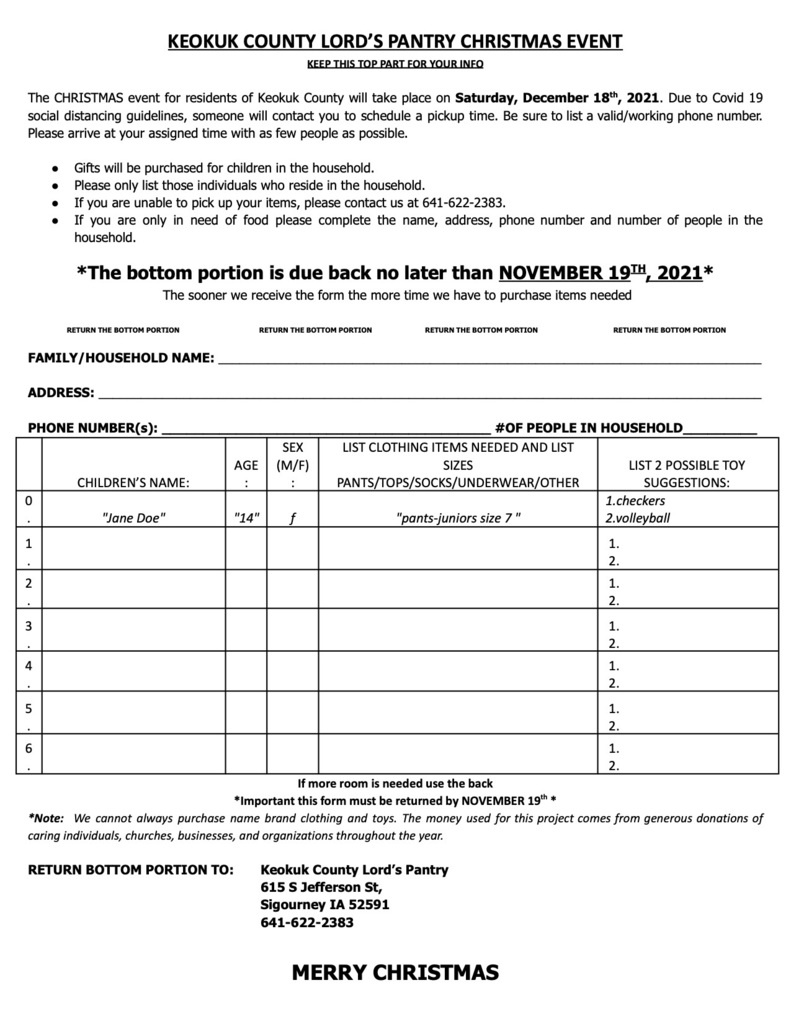 Fall Key Club Clothing Drive Oct.28th 8am-6pm Sigourney HS Clothes are donated to the Sigourney Key Club during the month of October. Donations may be dropped off at either the high school office or the Sigourney Public Library. On October 28th, the clothing is sorted and sat out on tables for any families and/or individuals in the community to take...for free! Just stop by the Sigourney HS between the hours of 8am and 6pm on Oct. 28th.

Stadium Echos + Vocal Vibes: October 19th, 7:00 PM, high school gym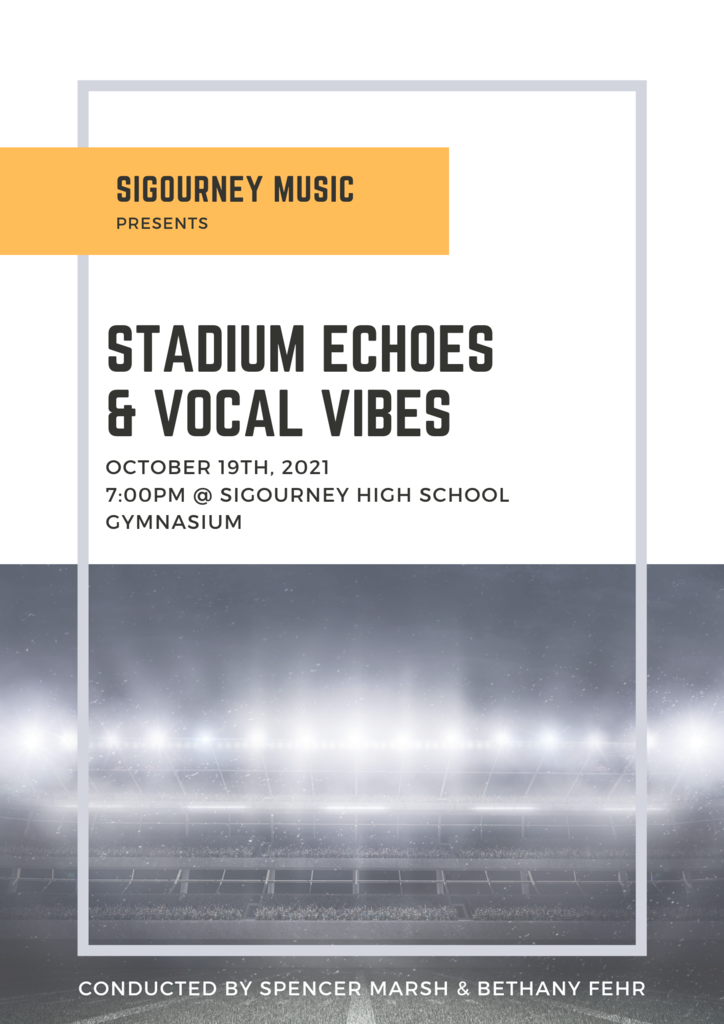 The after-school STEM program for grades 2nd-6th has been cancelled for tomorrow, 10/12.

Reminder: the Blood Drive is tomorrow, 10/7, from 10-2 PM, at the Sigourney Jr. Sr. High in the large gym. Masks are required to donate.

Reminder: Lil Cobra Cheer is immediately after school today and tomorrow at 3:30 until 4:30. Your student will be sent to cheerleading from their classroom unless we hear differently. Please email Val with any questions or changes!
val.weber@sigourneyschools.com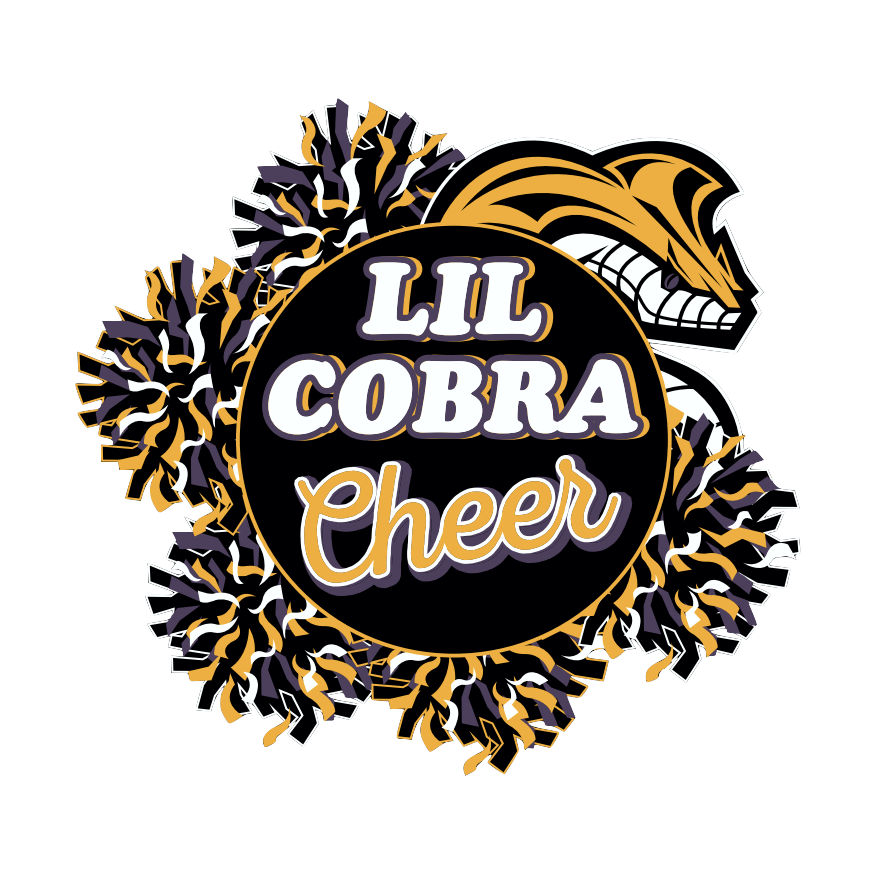 Rally Towels are in! These are $10.00 and all proceeds go towards the Cale Jarmes Fine Arts Scholarship! These will be available at the game Friday night October 1st, the Farmer's Market on Wednesday, October 6th, and in Mrs. Shaw's room at the High School! #livelikecale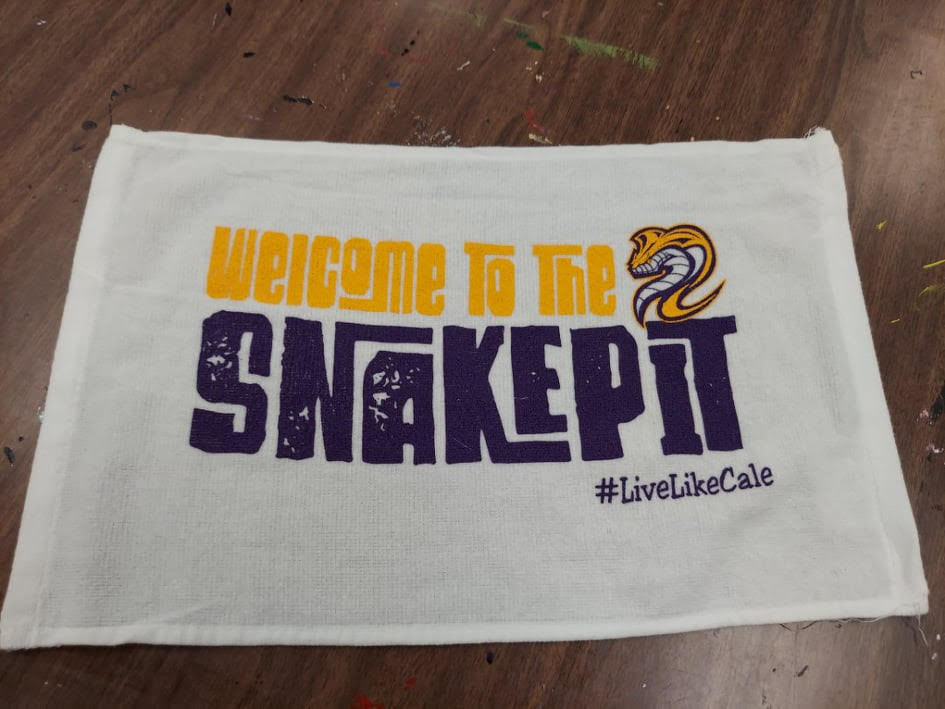 Sigourney CSD will be having a 1:30 dismissal today due to excessive heat. The elementary will dismiss buses and car riders at 1:20. Thank you.​

Blood Drive details: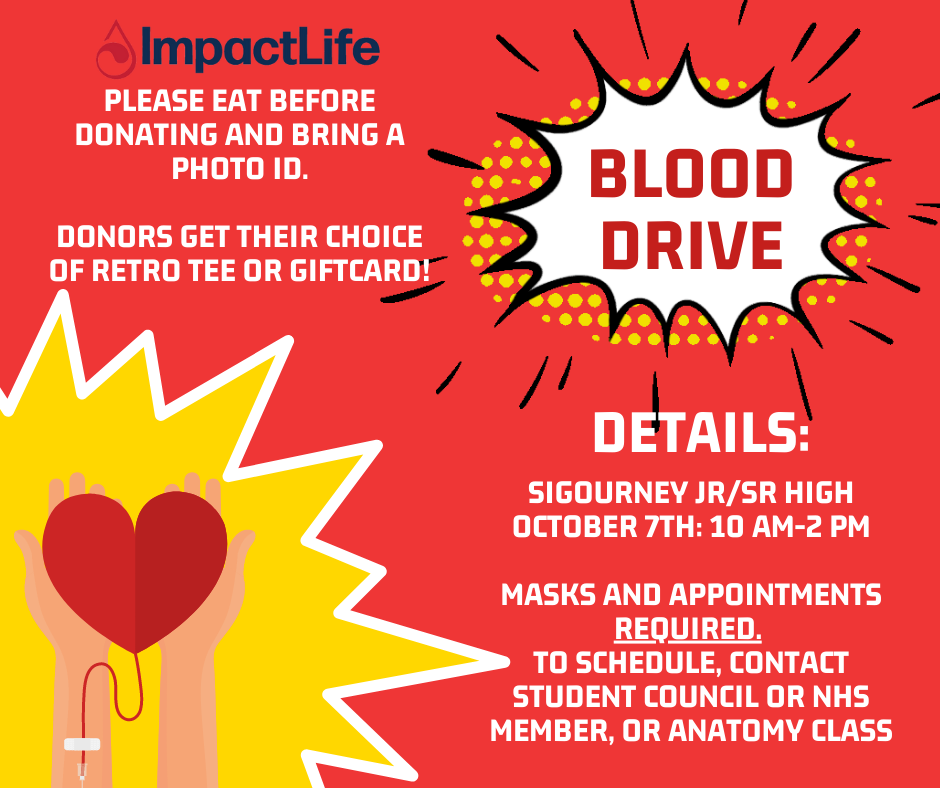 Homecoming shirts are in! They will be sent home with your elementary or high school students. Keota, Harper, Ollie and Washington addresses were delivered to Keota Schools. If you're unsure on where to pick yours up, please email Val @
val.weber@sigourneyschools.com
Congratulations to our 2021 Homecoming Queen, Madison Richards, and King, Zach Smithart!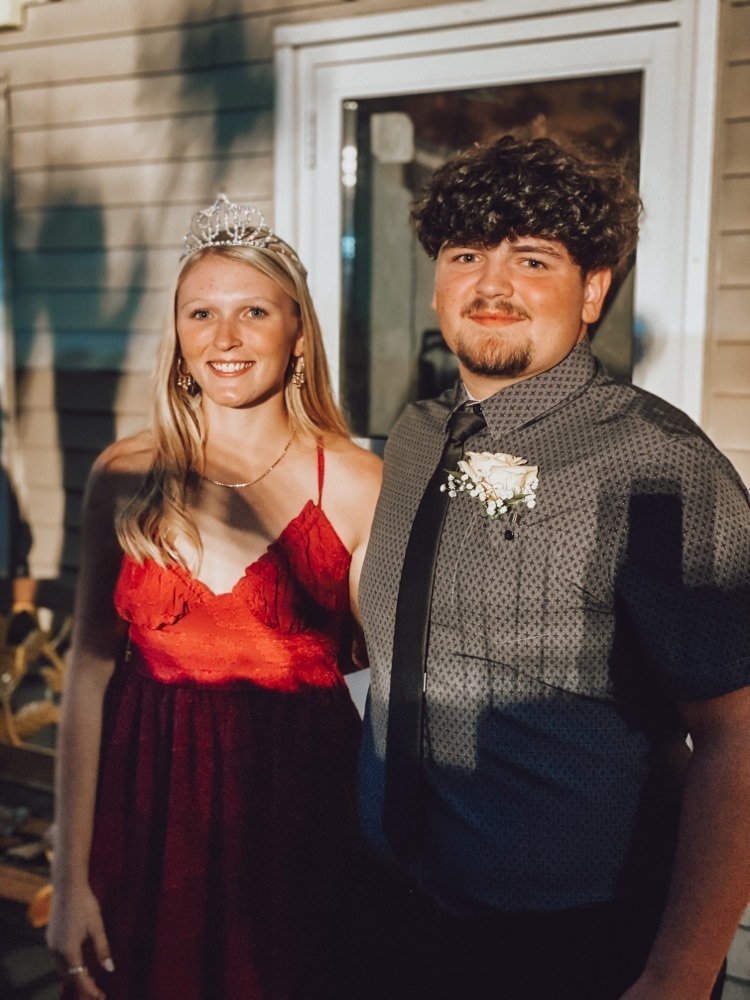 Boom Night Details: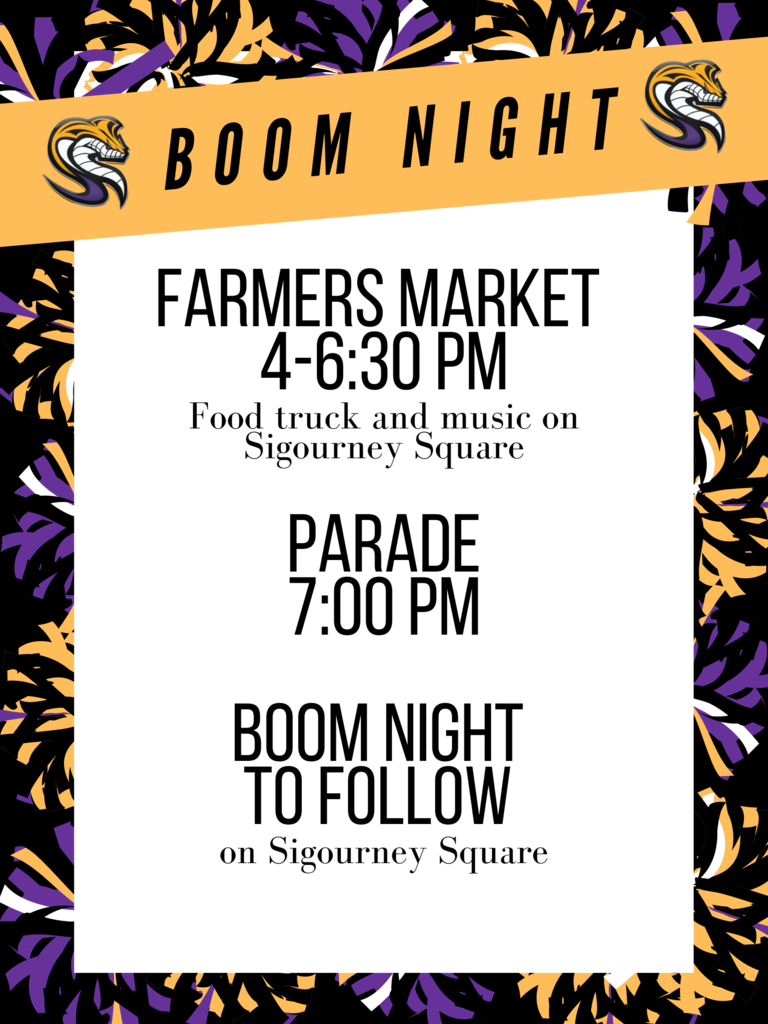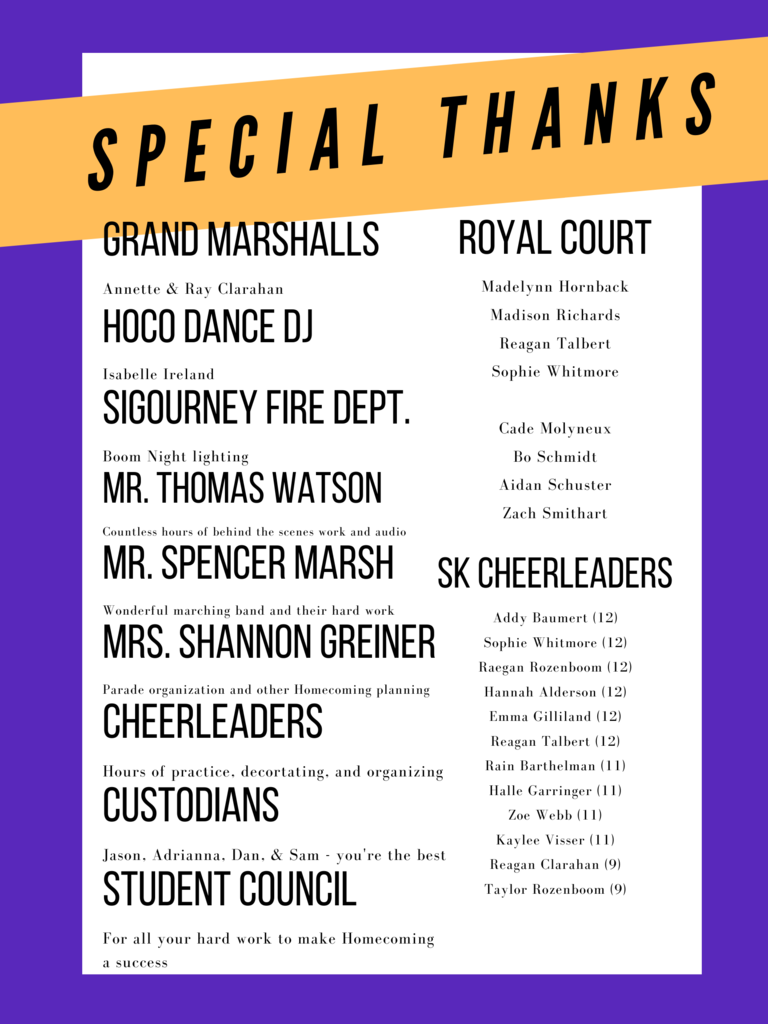 PTO Presents: Ice cream & Bingo with grandparents! September 21st from 5:30-6:30 PM at the elementary.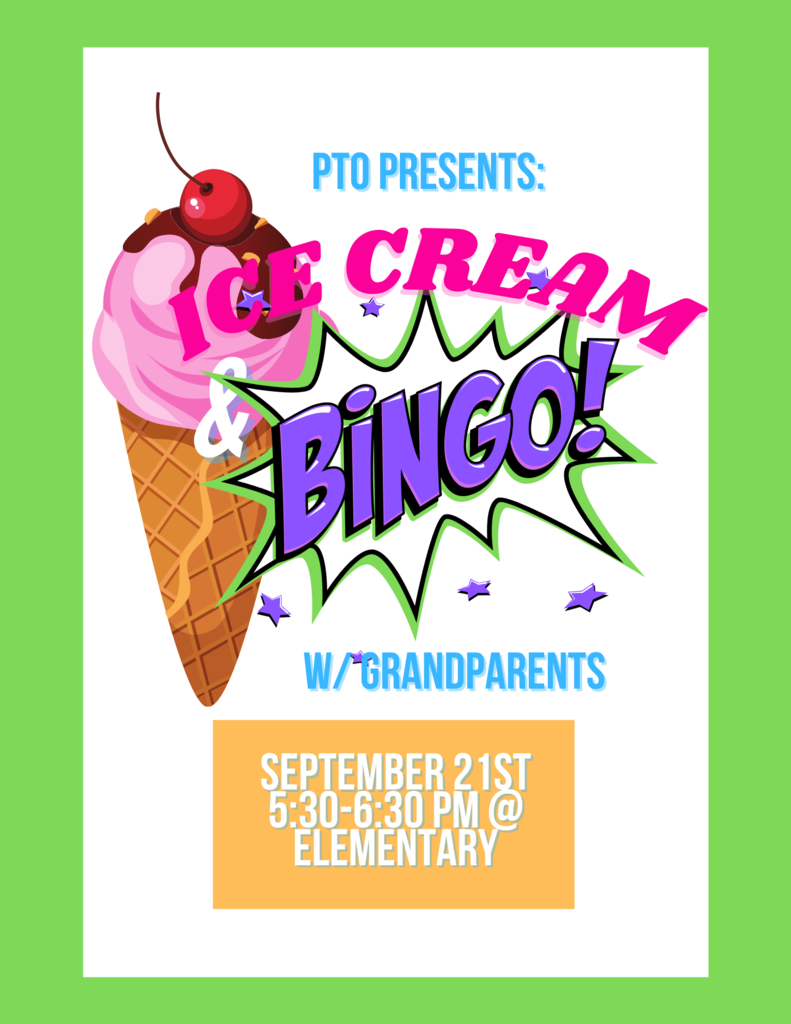 2021 Lil Cobra Cheer: Please email Val with any questions:
val.weber@sigourneyschools.com
Forms need returned to Elementary. WHO: PK-6th grade Sigourney girls and boys PRACTICE: 9/29/21 & 9/30/21, practice will be after school (3:30) until 4:30 PM in elementary gym, please be prompt for pickup at East doors of elementary school (cafeteria door, #5E ) PERFORMANCE: 10/01/21 at the SK Cobra Football game. Game starts at 7:00 PM, students will cheer at half-time. Please have cheerleaders meet by the north entrance of the track 5 minutes before half-time. COST: $20 per cheerleader - cash or checks only. Add-on available for an additional fee. Checks made payable to: 'Cobra Cheer' **Includes t-shirt, camp fee, and entry into football game (does not include entry fee for family or friends). Forms are due 9/15 for t-shirts. Forms turned in after the due date may not receive a t-shirt. No refunds will be issued if the game is canceled. Forms have been sent home with students but may also be found here: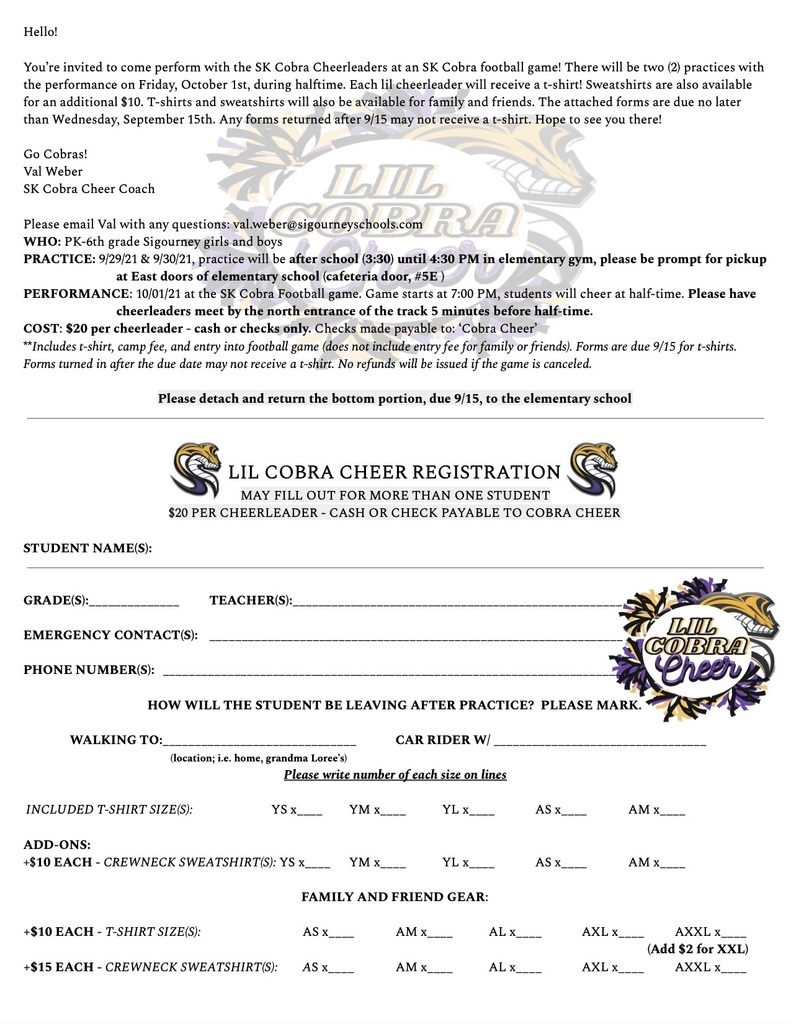 Congratulations to our 2021 Homecoming Court! Madi Richards, Madelynn Hornback, Reagan Talbert, Sophie Whitmore Cade Molyneux, Bo Schmidt, Aidan Schuster, Zach Smithart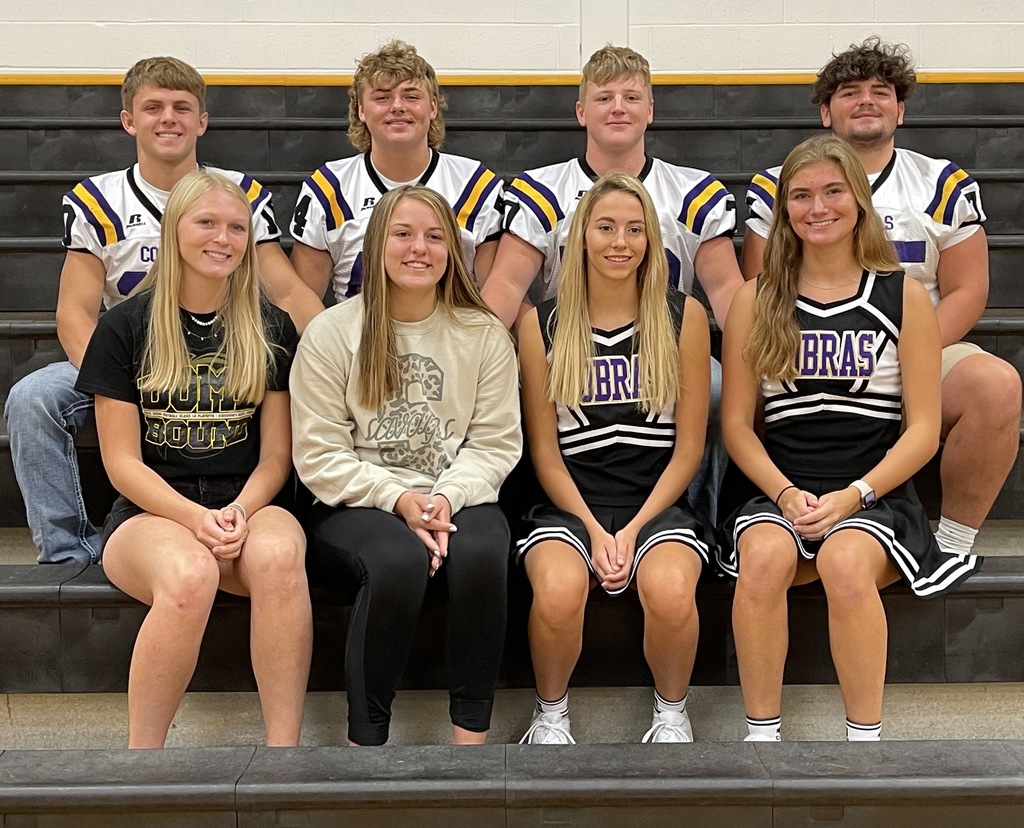 Join Sigourney Pride Activities Boosters and help support the Sigourney Savages!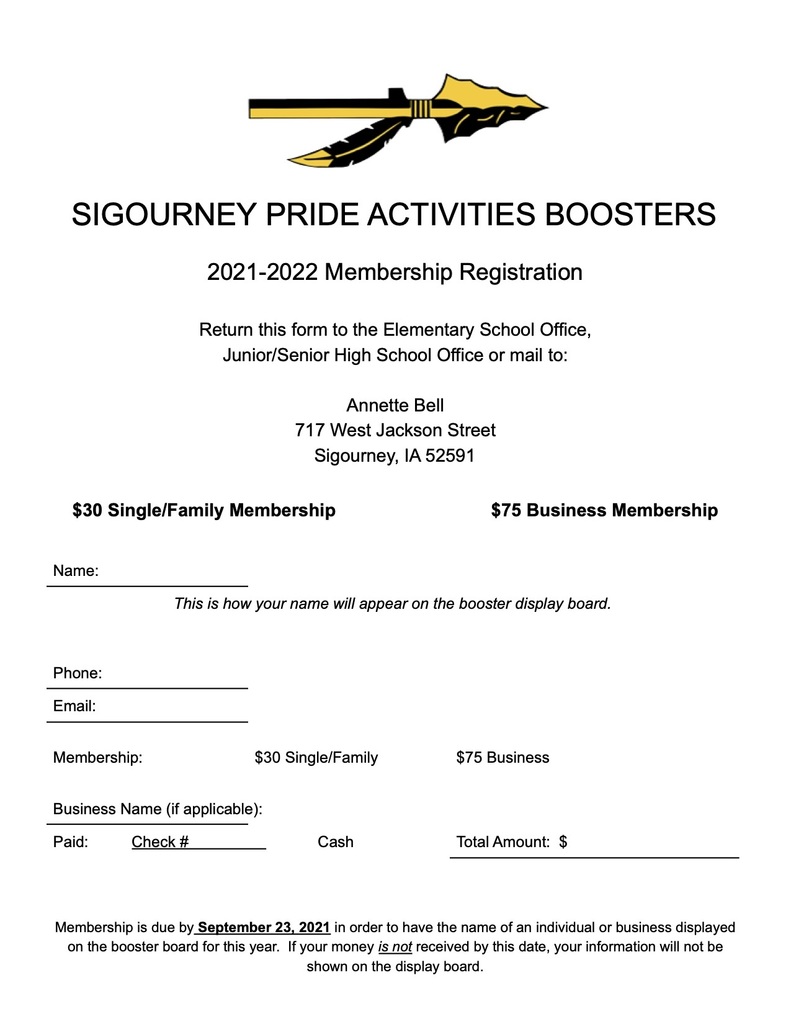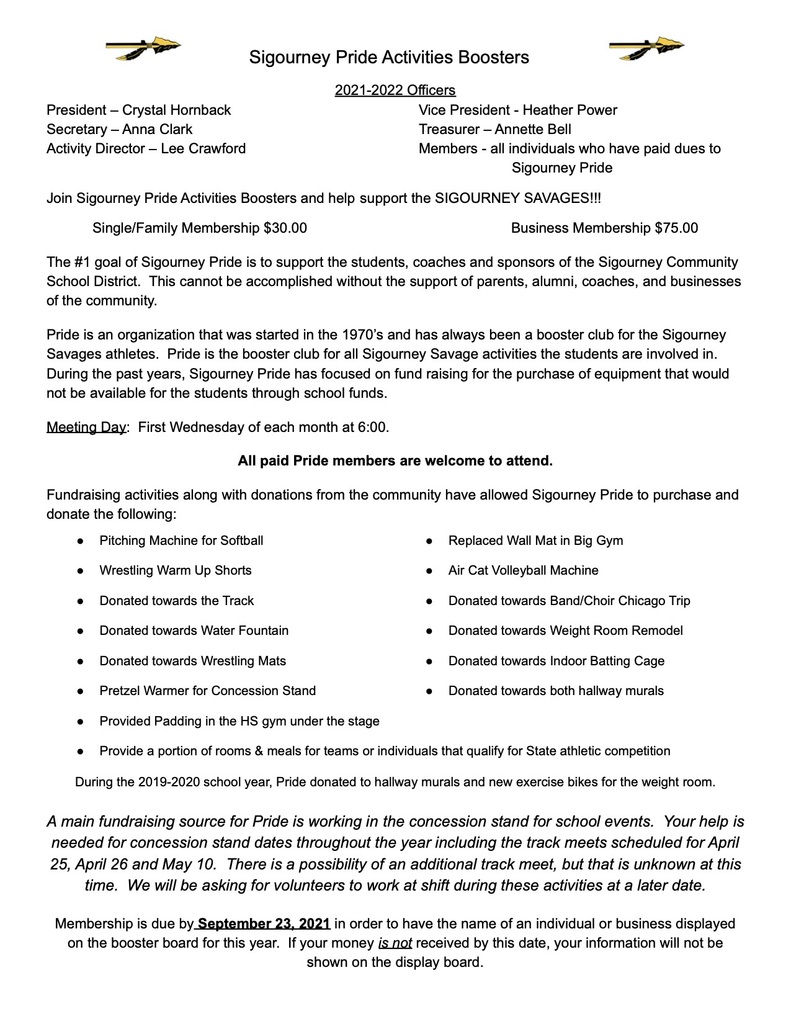 To accelerate my learning, I would be grateful for your honest input. All responses are anonymous. A summary of the responses will be provided to Board, staff and community. Your input will help us gain a deeper understanding of the perceived Strengths, Weaknesses, Opportunities and Threats related to the school district. My goal is to complete this survey by the end of September, 2021. Thanking you in advance, Kevin Hatfield, Superintendent Please follow this link to complete the survey:
https://forms.gle/cGfxv3boFN9Y68REA